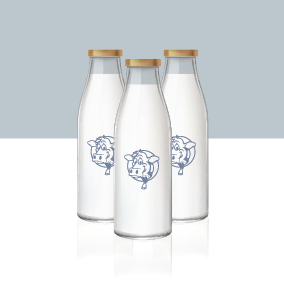 3L Milk Refill - Single Purchase or Subscription
$1350

$13.50
Tax included.
---
---
3 Litres Fresh raw milk, delivered to your door.
Please choose the appropriate delivery area and time. Times are approximate.

We offer free delivery to Timaru, Waimate, Pleasant Point, Fairlie and Cave townships on the allotted days and times below. If you are located near these towns, please message us and we will try to accommodate you.

Please ensure you leave out your empty bottles for replacement.
• Non Homogenised
• Non Pasteurised
• Environmentally Friendly
• Free Range
Delivery Day and Time Options (Please choose at Shipping):
Timaru - Monday 4.00-6.00pm
Timaru - Tuesday 4.00-6.00pm
Waimate - Tuesday 11.00-11.30am
Cave/Taiko/Fairlie/Pleasant Point - Wednesday 11.00-1.30pm
Temuka/Winchester/Geraldine - Thursday - 11.00-12.30pm
Raw milk may contain harmful microorganisms that can cause serious illness. To reduce the risk, milk should be heated to 70˚C for one minute. This is for infants, young children, the elderly, pregnant women and people with weakened immunity.
---